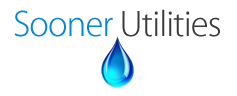 BILLING ADDRESS AND PHONE NUMBER
PO BOX 958  EDMOND OK 73083
OFFICE:  405.285.5687  FAX:  405.285.5782
Customer may make over the phone payments at: 1.877.885.7968 (Automated 24/7)
or, using the payment link, customers may register an account to pay online with a check or credit card.  Customers may also set up reoccurring payments and schedule future one time payments.
Sooner Utilities, Inc. is a small family owned business established in 1994.  We serve 10 areas rich in Oklahoma history belonging under the umbrella of the Oklahoma County Utility Services.   The public water systems were originally oil communities where other communities eventually grew to them.   A few public water systems are primarily rural and were more recently acquired.
Our water is pumped from the Garber-Wellington Aquifer.  Your water is regulated by the Department of Environmental Quality.  You can learn more about groundwater by clicking the following link: